Power Crunch HG0248310 1.4 oz Peanut Butter Fudge Bar - Case of 12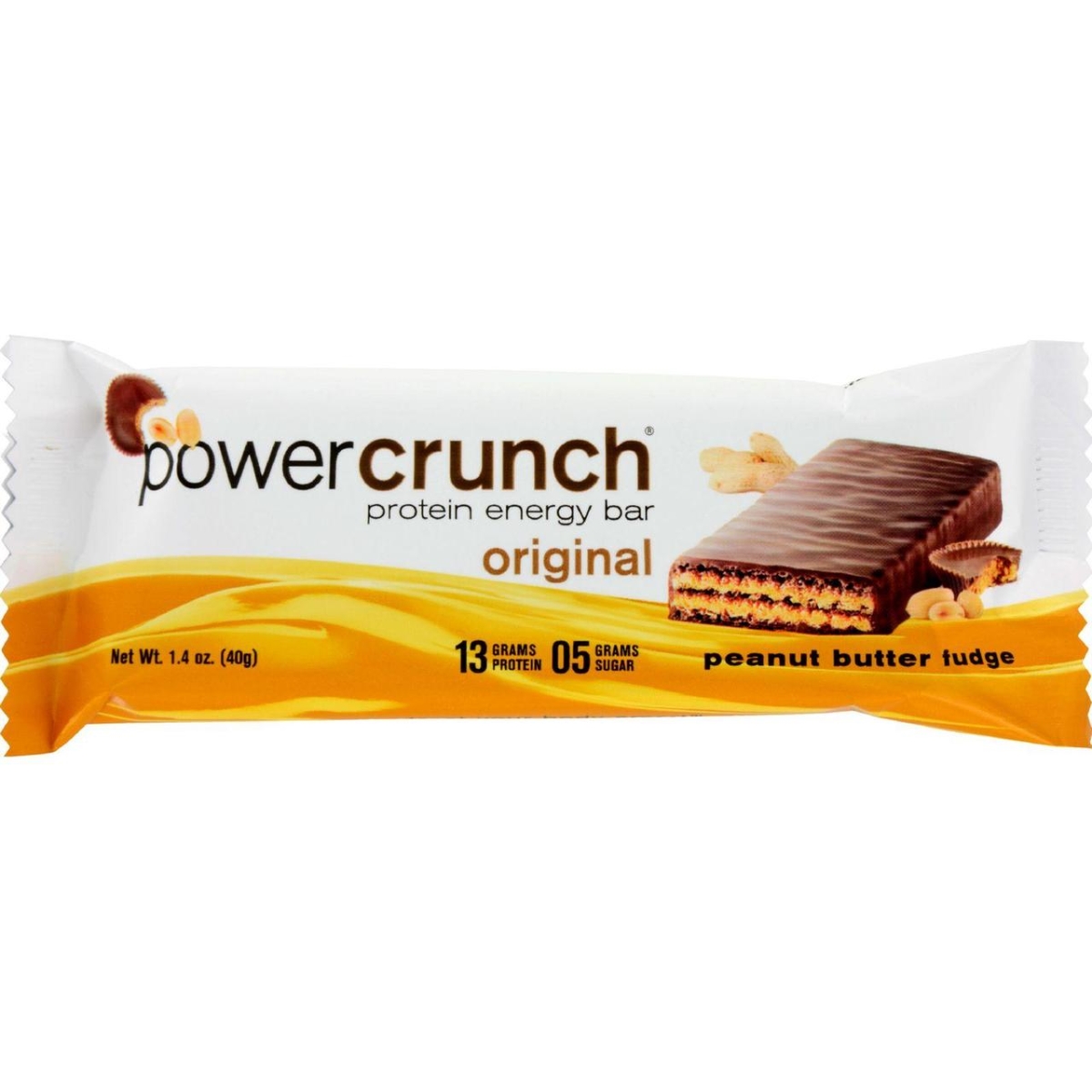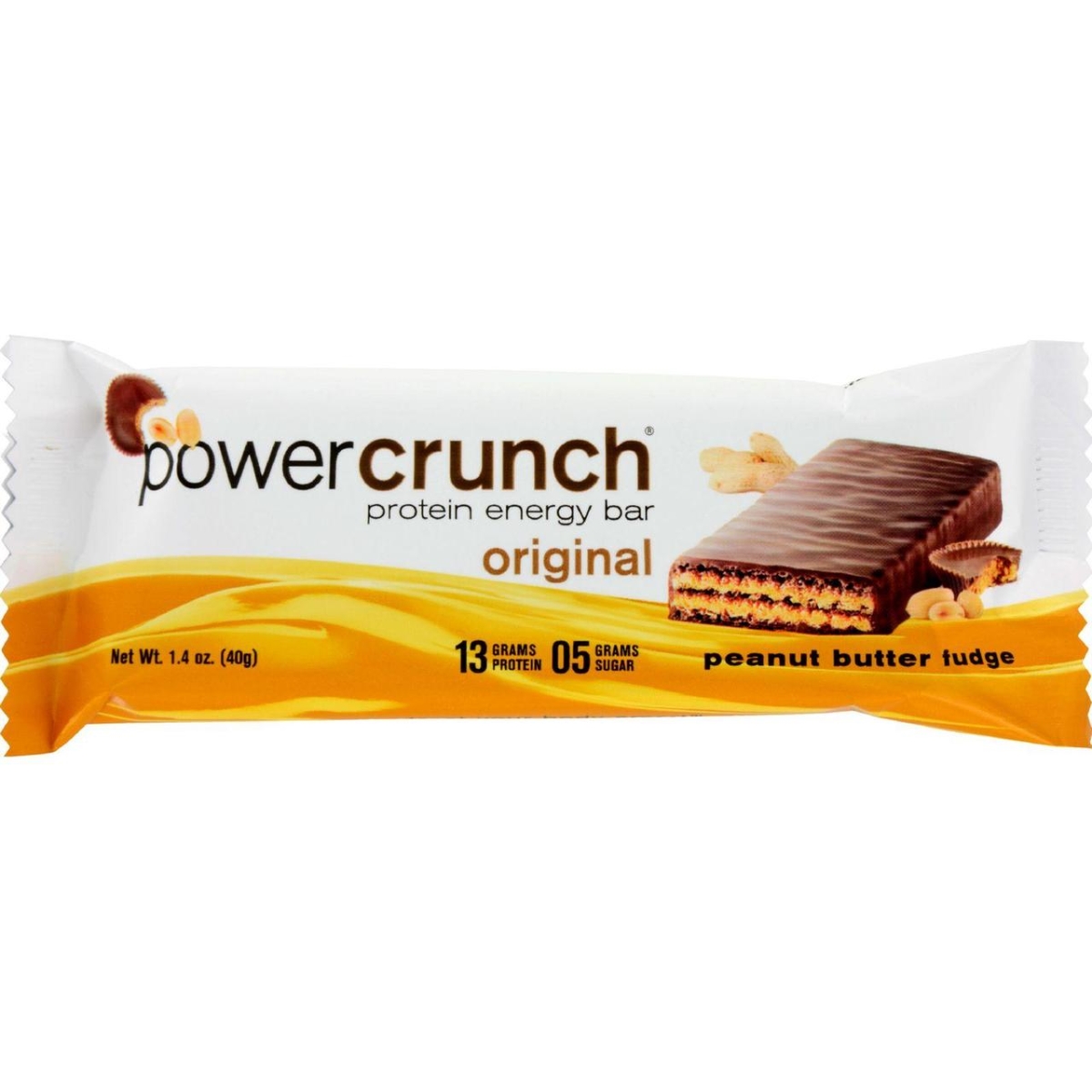 Our Price:
$29.94
You Save $10.48 (35.00%)
---
Manufacturer Part #: HG0248310
Lead Time: 4 Days
Size: 2.62" H x 6.15" W x 6.62" L
Estimated Shipping Cost: $5.10
This protein Energy bar from BNRG (Bionutritional Research Group) is protein rich, low in sugar, and made with wafers for maximum crunch. Each bar contains 14g of a protein blend that is loaded with extreme hydrolyzed whey protein. Power Crunch bar also contains stevia leaves extract which is an all natural sweetener. You can use this protein bar as a healthy snacking alternative or use it to help propel your fitness goals.
The ingredients were specifically chosen to help you maintain a lean muscle body without having to jeopardize flavor or taste. Ideal for Protein Supplement or as Healthy Snacking Alternative Inside the protein blend Power Crunch bars use a Proto Whey protein blend. This protein blend is a combination of Proto Whey, whey protein isolates, and milk protein isolates. Proto Whey is made from micro peptides sourced from an eextremee hydrolyzed whey protein. The hydrolyzed whey protein contains 55% diglycerides and triglycerides.
This type of protein is going to be able to be utilized by your body in an extremely efficient manner. Some proteins, like caseinates, take longer to process. Longer digestion rates can be beneficial when you are doing heavy training or any sort of endurance work. When you need something that is going to provide you immediate natural energy in the form of protein a protein type such as an isolate is a good choice.
When the protein is hydrolyzed it means that it has already been partially broken down through processing to help maximize absorption rates. By being quickly assimilated into the body, Power Crunch is able to help you fight hunger quicker as well as give you stimulant-free energy. THE SMARTS BEHIND THE CRUNCH Not only is eating a crunchy protein bar a pleasant switch up from extra chewy bars, there is a certain amount of psychology behind it. The psychology behind eating something crunchy is prevalent to anyone that is interested in ways to eat less or take in fewer calories daily. When the mouth is busily crunching away on something the process of mastication sends signals from the brain to the stomach signaling that you are actually eating more than you are. This is often times why things like celery or air-popped popcorn are good to help you eat less. Of course both of those are foods naturally low in calories, but the important part is the crunch factor.
Power Crunch gives you that crunch factor coupled with high quality protein to give you energy and help you curb hunger cravings. Power Crunch. Protein Energy Bar. High Protein Creme filled Wafer Bar. 14 Grams of Protein. 5 Grams of sugar. ProtoWhey for maximum protein absorption.
Features
High Quality Protein
Wafers for Maximum Crunch
Natural Sweetener Stevia
Case of 12
Ingredients
Nutrition Facts Serving Size 1 Cookie Servings Per Container 12 Amount Per Serving %Daily Value Calories 200 - Calories from Fat 105 - Total Fat 12 g 18% Saturated Fat 5 g 25% Cholesterol 0 mg - Sodium 100 mg 4% Potassium 125 mg 4% Total Carbohydrate 10 g 3% Dietary Fiber 1 g 4% Sugars 5 g - Protein 13 g 26% Trans Fat 0 g - Vitamin A Vitamin C Calcium 8% Iron 4% Percent Daly Values are based on a 2,000 calorie diet. Other Ingredients: Proto Whey Protein Blend (Proto Whey [Micro Peptides from Extreme Hydrolyzed Whey Protein [55% Di and Tri Peptides], Maltodextrin], Whey Protein Isolate, Milk Protein Isolate], Peanut Butter (Peanuts, Palm Oil, Sugar, Salt), Palm Oil, Enriched Flour (Wheat Flour, Malted Barley Flour, Niacin, Reduced Iron, Thiamine Mononitrate, Riboflavin, Folic Acid), Sugar, Palm Kernel Oil, Cocoa Processed with Alkali, Fructose, Soy Lecithin, Caramel Color, Natural Flavors, Salt, Baking Soda, Stevia Leaf Extract.
Specifications
Capacity: 1.4 oz
Dimension: 2.62" H x 6.15" W x 6.62" L
Weight: 0.7 lbs
You May Also Like